what's the story morning glory?
it's hacking ... coffee hacking!
What happens when you're locked in for a year, the world as you know it has changed in ways you couldn't possibly imagine, and you can't travel? You start a coffee company and a cafe of course!
Being hackers that have stayed up more hours than we should have running conferences all over the globe, we've probably consumed well over a swimming pool or two of coffee at the very least! Not happy to just 'buy a hipster roaster and some beans', we wanted to create something more than just 'good coffee' – we wanted a coffee for hackers!
Coffee that's bespoke, with beans that are from known single origin sources, grown by small farmers and co-ops, roasted by roasters that truly care about what they produce. Roasters who are willing to work with us to create a unique roast profile and extraction recipe for each of our coffees so you get the freshest, and best possible flavors direct to your cup.
Why settle for good coffee when you can have #1337coffee?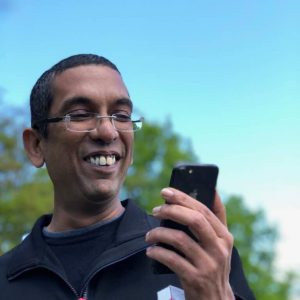 Dhillon '@L33tdawg' Kannabhiran
Founder / Chief Executive Officer
Clearly not busy enough just running the HITB security conferences and driving his existing team mad, Dhillon has instead chosen 2021 to be the year where he keeps everyone he knows awake – with lots and lots of coffee!.
Nadira '@nmohs' Mohsin-Kannabhiran
Co-Founder / Resident Yogi
Founder and Head Ashtangi at Art of Yoga in Singapore, Nadira also happens to be married to Dhillon (poor her).

When's she's not teaching her Mysore style classes, she's teaching Dhillon how to breathe.
Kenneth 'Muscleman' Yam
Orang Kuat / Head of Operations
Between working out and getting ripped, Kenneth is responsible for all things operational – both at The Space as well as working with our partner roasters and external mischief makers..

Hayley 'Pour Over' Lim
Head Barista / Head Roaster
SCA (Specialty Coffee Association) certified, Hayley is more 'famous' than she actually realizes, A veteran of the barista scene in Malaysia and Singapore, she overseas all things coffee at 13 Thirty Seven including our soon to open small-batch roastery. Constantly pushing the envelope of extracting the best possible flavors from each cup, and perfecting her extraction methods, Hayley is an artisan of her craft – a true extraction hacker.
Your Name Here
Barista / Cafe Crew
We're looking for baristas and crew for the The Space both for part time and full time roles (preference of course for those with previous cafe experience)

Interested? Send an email to joinus@13thirtyseven.my and tell us a bit about yourself.!
Amy '3-in-1' Gee
Polyfiller
"I don't want my profile on the website, I just wanna drink the coffee!"